Before using Time4VPS WHMCS module, you should activate it and configure.
1. Create new admin user with "Full Administrator" privileges with username "time4vps".
2. Log in as Admin to your WHMCS admin area and go to: Setup -> Products/Services -> Products/Services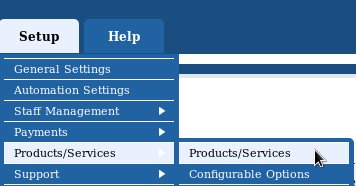 3. Create your own service group by pressing link "Create a new Group" (example: VPS)
4. Go back to "Products/Services" tab and press link "Create a New Product"  with a product type – "Other" and setup it. Something like this:

5. Now configure Time4VPS WHMCS module at "Module Settings" for created service
5.1. Choose "Time4vpsr" module from dropdown list and press "Save Changes" button

5.2. Enter your API Key and API Password

5.3. Choose "Product" (example: XS)
5.4. Do not change API URL
5.5. Setup deployment option to "Automatically setup the product when you manually accept a pending order" or "Automatically setup the product as soon as the first payment is received"
5.6. Press "Save Changes" one more time and product is ready and you can setup price, description etc.
Note: Our services does not require domain name, so be sure to unselect "Require Domain" option in "Description" tab.
If you need support regarding module configuration, please open support ticket.